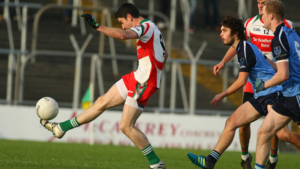 Gaeil Colmcille's Keith Reilly
Football is back, Gaeil Colmcille made the trip to Proudstown to face Simonstown in Group B of the A league Division 1.
Conditions for the 17th of July weren't ideal with a mist of rain pouring down. The visitors registered the opening score of the match thanks to Keith Reilly. Simonstown fed their tall inside forward men and in the 8th minute struck for goal, Simonstown followed that with a point one minute later and Kells relied on the free taking of Brian Hanlon with two points to keep them in the game early on.
In the 19th minute Simonstown were awarded a penalty which Sean Tobin dispatched to the top corner leaving no hope for Kells keeper Gary McGovern. The water break followed the penalty and allowed Gaeil Colmcille to regroup and from the restart the rattled four points in a row off to tie the game with Seamus Mattimoe and Evan Sheridan grabbing a brace each. Simonstown did get a late point to take a 2-02 to 0-07 lead into Half-Time break.
Like the first half Gaeil Colmcille scored the first point with a Hanlon free but that was quickly matched by Simonstown to keep them leading by the minimum. With the Kells backs on top Gaeil Colmcille went on to outscore the home side by seven points to one in a 15 minute spell. With brothers Oisin and Fionn Reilly getting in on the act and points from Hanlon, Mattimoe and Keith Reilly.
Simonstown struck back to back points but two of the points of the match came from Kells with Hanlon scoring left footed from an acute angle and Mattimoe from over 50 yards out straight over the black spot.
Kells finished the game with a goal and it was Substitute Ryan Farnham who got on the end of a great move to fire to the back of the net with the final kick of the game to see Gaeil Colmcille record an 8 point victory. Seneschalstown will be up next on Wednesday for Kells in Grangegodden while Simonstown face Moynalvey.
Gaeil Colmcille: G McGovern, B Tormay, P Tormay, J Reilly, L Ferguson, S Curran, F Reilly (0-02), O Reilly (0-01), P Ward, E Sheridan (0-02), K Reilly (0-03), S Mattimoe (0-04), C Courtney, M Barrett, B Hanlon (0-06)
Subs: D McGovern for L Ferguson, B Smith for Barrett, F Ferguson for Hanlon, R Farnham (1-00) for O Reilly
Photo © Declan Lynch