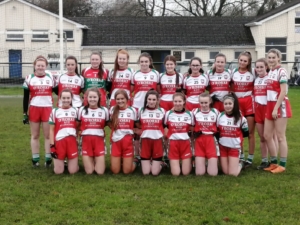 Ladies Minor Panel 2019
Gaeil Colmcille Minor Ladies made the trip to Summerhill on Sunday morning for the Division 3 League Semi-Final.
They say lighting never strikes twice except for these young ladies. Last Sunday against the same opposition and needing a win to stay in competition they were 5 points down with a 5 mins to go. No panic, a quick 2-1 sets up a semifinal in Summerhill.
After a frantic start with both teams going at it fast. Emma Jane McKeon got Gaeil Colmcille up and running with a point from play. They game settles down and Summerhill respond with the next three points. The Kells full back line of Georgia Lynch, Nicole Mitchell and Tara Fitzgerald were playing well and protecting Leah Donlon in the goals. With EJ and Emily Sheridan-Fox working hard in midfield and good inter play by Aisling Reilly and Gemma Clarke. A Sarah McGillick point reduced the deficit to just one point. More good work by Erin Whyatt and Caoimhe Murphy sets ups EJ to level it at 0-03 each. With the visitors now on top a couple of miss placed passes and wides left us ruing not going in front. Summerhill did manage to get the last score of the half to take the smallest of margins to go one point ahead 0-04 to 0-03 at half-time.
Gemma got the first score of the half with a point from a free before Summerhill got the next two points. Our half back line of Poppy Maguire, Sarah Kerins and Ciara Kilgallon were working hard with Sarah keeping Meath Ladies player Mary Kate very quiet for the second week in a row. Aisling scored the next point to level the game up again. Similar to the first half the Kells girls were working hard but a few misplaced passes let Summerhill in and they reeled off the next 4 points to go 4 clear with 6 minutes left. Anna replaced Erin in the half forward line and that's when the never say die kicked. With Emily and EJ driving them forward, Sarah wins the ball inside and the ball is worked out to EJ for her third point from play. Great work from Aisling and Emily sees us win the kick out before we worked the ball down the left for EJ to beat and couple of players and bury the ball left footed into the top corner.
From the kickout again great work from Aisling and Emily and EJ sees the ball moved out to Gemma and from a tight angle she strokes the ball left footed and over the bar. A minute into injury time we again pressure the kickout and Sarah Mc lays the ball off to Gemma who is fouled 25 yards out. She picks herself up and slots the free over the bar. Summerhill make one last attack but Sarah K and Poppy again stop them, the ball is moved up to the forwards and the final whistle blows and we head to the final next Sunday
Gaeil Colmcille: Leah Donlon, Georgia Lynch, Nicole Mitchell Tara Fitzgerald, Poppy Maguire, Sarah Kerins, Ciara Kilgallon EJ Mckeon 1-3 Emily Sheridan Fox, Nora Barry, Gemma Clarke 0-3, Erin Whyatt, Aisling Reilly 0-1 Sarah McGillick 0-1 Caoimhe Murphy, Anna Reddy, Kate McCabe, Naoise Murray