Gaeil Colmcille Ladies made the trip to Kilcloon to take on Blackhall Gaels in the first Round of the league. Having won promotion the Kells ladies were hoping for a good start.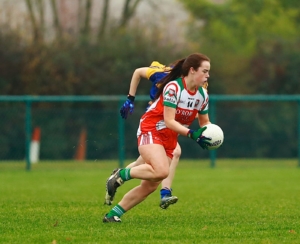 Gaeil Colmcille's Sarah McGillick
Playing against a strong wind the new Kells Fullback line of Anna Reddy, Nicole Mitchell and Tara Fitzgerald were immediately under pressure with Blackhall play long balls in. Blackhall got the opening score with a point from play followed shortly afterwards with a well worked goal.
With Leah Donlons kick-outs working well the Halfback line of Poppy Maguire, Sarah Kerins and Aoife Kelly started to  move the ball well and with midfielders Emily Sheridan and Emma Jane Mckeon finally starting to get on top Sarah McGillick got Kells first point from play.
Another well worked move involving Aisling Reilly and Rachel Kumar saw Gemma Clarke score her first point. The Kells girls were still moving the ball well through the hands but the final ball was getting held up by the wind. The wind kicked up again and Blackhall took advantage to score the next 3 points. Before Gemma Clarke responded with another point. Niamh Walsh replaced the injured Aoife Kelly with Tara moving to half back. With the Blackhall no 10 running strong they scored the next 3 points to go in ahead 1-07 to 0-03.
The Kells girls came out of the traps in the second half with 3 quick points from Sarah Mc and a vintage left footed point from Rachel.
A good move involving Ella Reilly and Orla O'Rorke saw Gemma Clarke stroke the ball into the net to draw the teams level after 36 mins. Two Gemma frees and another point from Sarah Mc saw Kells move ahead for the first time. With Aisling and Ella winning all the kickouts on thee side the ball was moved to Sarah Mc for her to prod the ball into the net.
With Blackhall trying to move the ball forward Sarah K and Poppy and Tara were cutting everything out. A good run from Emma Jane saw her score from play.  Kells started to run in the subs with Niamh Halpin and Niamh O'Keeffe returning after a couple of years rest. A heavy challenge on Gemma saw Orla hit a long range free which dropped into the net just under the cross bar. Rebecca Murray and Sorcha Farrell replaced Aisling and Poppy before Sarah Mc added another point. Ella got a well deserved point before Sarah Mc got her 6th from play. Another good move saw Niamh O score from close range before a final point from EJ saw the Kells girls running out winners by a score line of 3-15 to 1-7
Gaeil Colmcille: Leah Donlon, Anna Reddy, Nicole Mitchell, Tara Fitzgerald, Poppy Maguire, Sarah Kerins. Aoife Kelly, Emily Sheridan. Emma Jane Mckeon 0-2 Gemma Clarke 1-4 2f, Rachel Kumar 0-1, Ella Reilly 0-1 Aisling Reilly, Orla O'Rorke 1-0f Sarah McGillick 1-6 Ciara Brady, Niamh Walsh, Niamh O'Keefe 0-1, Niamh Halpin, Rebecca Murray, Ciara Killgannon, Nora Barry, Sorcha Farrell, Naoise Murray