Girls celebrate winning Division 5 Title
Goals win games were the order of the day. After a long season, our ladies made the trip to Dunganny to play Seneschaltown in our first league final. The teams had met in the snow in March with Seneschaltown coming out on top. A couple of late withdrawals due to illness, left Georgia Lynch, Ciara Brady and Sarah McGillick on the sideline. A couple of other positional changes saw Caoilinn Connell drop into the cornerback position allowing Emma Jane McKeon to move to midfield and Emily Sheridan Fox moving to half-forward.
These changes had the perfect impact on Orla O'Rorke scoring a goal after 5 minutes. With the Kells midfield on top, team captain Rachel  Kumar and  Emily winning the Seneschaltown kickouts Emma Jane made to driving runs to score to goals in quick succession to leave the score 3 goals to 0 at 13 minutes. Seneschalstown pushed forward but the Kells fullback line of Niamh Walsh, Caoimhe Gibney and Caoilinn were sweeping up all there attacks. After 20 minutes another driving run from Emma Jane saw her final miss-hit shot fall to Aisling Reilly to bury it in the back of the net to make it 4 goals to no score. Seneshalstown again responded but Leah Donlon touching a shot on to the crossbar but a few minutes later they got there the first point from play. The Kells half-back line of Aoife Kelly, Poppy Maguire, and the excellent Sarah Kerins started again to push Kells forward even when Seneschaltown dropped in a sweeper to stem the attacks a quick 1-1 from Gemma Clarke pushed Kells further ahead. Emma Connell was winning the midfield battles and with Ella Reilly now sweeping up the Seneschalstown attacks two points from play from Orla and Emma Jane kept the Kells scoreboard ticking over. Seneschalstown scored a second point from play but the last score of the game was a hattrick goal from Emma Jane as she beat the goalkeeper from close range to leave the half time score 7-3 to 0-2.
Seneschalstown made a number of substitutions at half time and came out fighting in the second half scoring 4 kick points to reduce the deficit. Leah pulled of a number of good saves but the whole backline was keeping the Seneschalstown attack to long-range shots were they scored another 3 points to leave the score 7-3 to 0-9. Nicole Mitchell replaced Aoife and Sarah McGillick replaced Ella and with one of her first touches hit a shot into the top corner of the next. Seneschalstown was throwing everything forward and a couple of big hits on Emma and Sarah K looked like they might be trouble but the two girls battled on.  Rebecca Murray replaced Nicole who was struggling with her calf. Seneschalstown scored two more. Erin Whyatt replaced Emily and a late Seneschalstown shot beating the excellent Leah in goals. Seneschasltown kept pushing forward but Kells defense held firm for a final scoreline of Gaeil Colmcille 7-03 Seneschalstown 1-11.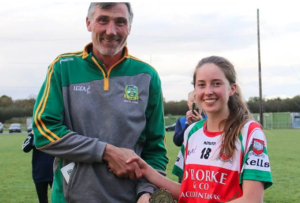 Frank Hevey, Meath Lgfa Development officer presented the player of the match award to Ella Reilly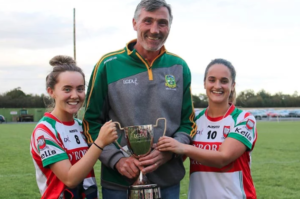 Frank Hevey, presented the Division 5 trophy to captain Rachel Kumar and vice-captain Emily Sheridan-Fox
Photo © Hoganstand